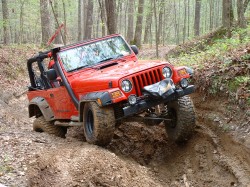 When you have a quality set of offroad lights, you don't have to let the fun stop when the sun goes down. Just light up the trail, party, or court with your own offroad lights and keep on keepin on!
Our available Jeep offroad lights are listed below:
---
---
---
Rigid Industries 50231 D2 Driving Light, (Set of 2)
$379.99 Too low to display

Big power in a small package - the rigid industries d2 led light is one of the most versatile lighting products on the market today. this 6 led light can be used for virtually any lighting application - from off-road to marine to agriculture. at only 34.5 watts, the d2 produces 3,030 raw lumens of l...
---
---