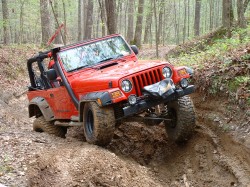 When you have a quality set of offroad lights, you don't have to let the fun stop when the sun goes down. Just light up the trail, party, or court with your own offroad lights and keep on keepin on!
Our available Jeep offroad lights are listed below:
---
---
---
Rigid Industries 26211 Flood Light, Black
$236.99 $236.99

One of rigid's most versatile, compact lighting solutions just got better with the d-ss, dually side shooter led cube. perfect for any application that requires a wide spread beam, including a-pillars, flood lights, and motorcycle applications. the d-ss cube incorporates the same powerful optics and...
---
---