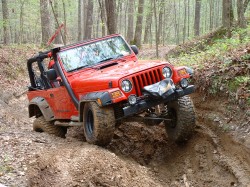 When you have a quality set of offroad lights, you don't have to let the fun stop when the sun goes down. Just light up the trail, party, or court with your own offroad lights and keep on keepin on!
Our available Jeep offroad lights are listed below:
---
---
KC HiLiTES 121 SlimLite Black 130w Spot Beam Light System
$188.22 $205.84

Kc hilites 121 slimlite black 130w spot beam light system includes two fully assembled lights, complete wiring harness with relay and illuminated switch and two protective stone guards. this lighting system is intended for maximum forward distance and/or high speed visibility and is backed by kc's...
---
---
---