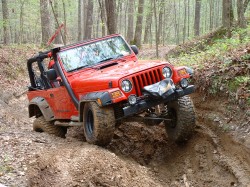 When you have a quality set of offroad lights, you don't have to let the fun stop when the sun goes down. Just light up the trail, party, or court with your own offroad lights and keep on keepin on!
Our available Jeep offroad lights are listed below:
---
Rigid Industries 50481 D-Series SAE Fog Light Set
$279.99 $206.30

The dot/sae certified lights -allows for a very wide, smooth beam with minimal beam height. this allows us to offer dot(fmvss 108) compliant led lights for front fog lamps and auxiliary high beam. by complying with the federal requirements, rigid industries led light can now be used legally on a fed...
---
PIAA 05572 LED Driving Light Kit
$246.98 Too low to display

Piaa's 5" lp 550 led lights feature advanced reflector facing technology (rft). in place of traditional halogen bulbs this lamps uses two seven watt led bulbs, producing a very white beam with a color temperature of 6000 kelvin. polycarbonate and a cast aluminum housing with a high strength poly len...
---
40" 5D HALO LED Light Bar by Arsenal Offroad HALO DRL / Super Spot-CREE 10W LED's 200w 19,200 Lumen, Off Road, Polaris RZR UTV Trucks Raptor Jeep Bumper Rock FREE Wireless Remote Control Wire Harness
$225.95 $225.95

New 2017 40" 5d halo led light bar by arsenal offroad light bar 10w cree leds 200w 19,200 lumen, off road, polaris rzr, utv, raptor, jeep, bumper rock, free wireless remote wire harness kit, must come with a arsenal sticker pack to be a real arsenal led light bar.
---
---