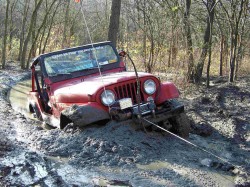 When you become serious about offroading, you're going to get stuck.  What happens next is up to you - will you wait for someone with a winch to come along, or will you winch yourself out and get back to the fun?  At YourJeep we offer an array of winches from big to small, that will pull you out no with no problems!
Our available winches are listed below:
---
WARN 17801 M12000 12000-lb Winch
$1,499.99 $1488.62

Warn industries m12000 12000-lb winch can pull up to 12,000 pounds, perfect for the largest off-road vehicles. the m12000 delivers plenty of power, torque and quick no-load retrieval, up to 30 feet per minute. plus, with a low-profile design, it will fit where you need it. it is powered by a 4.6 hor...
---
---