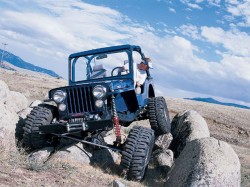 Looking to lift your Jeep? If so, you're in the right place. We offer tons of lift kits for every model jeep (if you don't see what you want here, use our search function). With a lift kit from Your Jeep, you'll be able to fit bigger tires, and really hit the trails. We stand behind our lift kits, and use only the highest quality materials. You'll be happy you bought your kit from us!
---
TopLift Pros Jeep Hardtop Remove and Storage Device
$899.99 $899.99

Your toplift pros jeep hardtop apparatus is the most revolutionary system ever brought to the market. no more will you have limitations as to removing your hardtop and storing it with your freedom panels. being extremely safe to use by you and securing your hardtop in place is essential for peace of...
---
---